Past Event←click this
One-stop Consultation for International Students
One-Stop Service for International Students opens in two places: Kumamoto City International Center and Consortium Office at Kurokami South Campus, Kumamoto University. This service is mainly for oversea students who come to study in Kumamoto higher education institutions. Consultation will be treated as strictly confidential. We hope that this office will help all the international students have a great life in Kumamoto.
   ●You can visit or message us for any consultation matters concerning your daily life, study, career,     part-time job, visa issues, event information, etc.
  ●Consultation in English is also available.
  ●Consultation is all free of charge.
For more information and inquiries, please email us or call the numbers below.
Service hours & location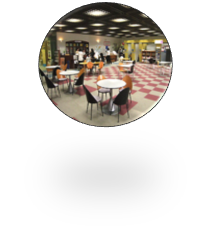 ① 2nd floor,Kumamoto City International Center :
     10am-5pm (Sun, Fri) 12am-7pm (Wed)
4-18 Hanabata-cho, Chuo-ku, Kumamoto 860-0806 JAPAN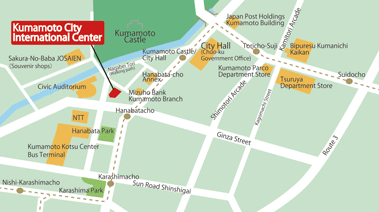 MAP:http://www.kumamoto-if.or.jp/kcic/default_e.asp
② Consortium Office, Kurokami South Campus,
  Kumamoto University: 9am-5pm (Tue, Thu) *It's closed in National holidays.
2-39-1, Kurokami, Chuo-Ku, Kumamoto 860-8555 JAPAN TEL: +81(0)96-342-3937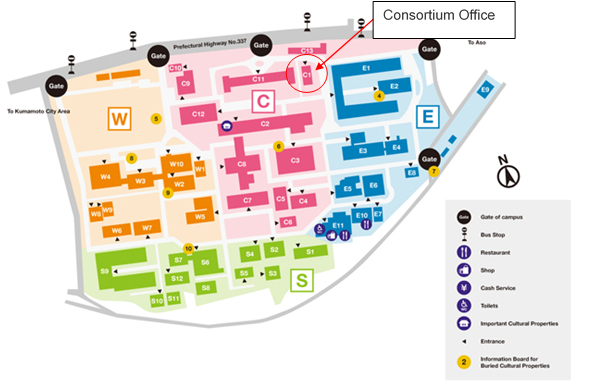 Tel: +81(0)96-359-2378
Fax: +81(0)96-359-2378
Email: onestop@consortium-kumamoto.jp
| | |
| --- | --- |
| ▲View of the building | ▲Display of the building name |
 This is the flyer→One-stop Consultation for International Students Flyer(PDF:732KB)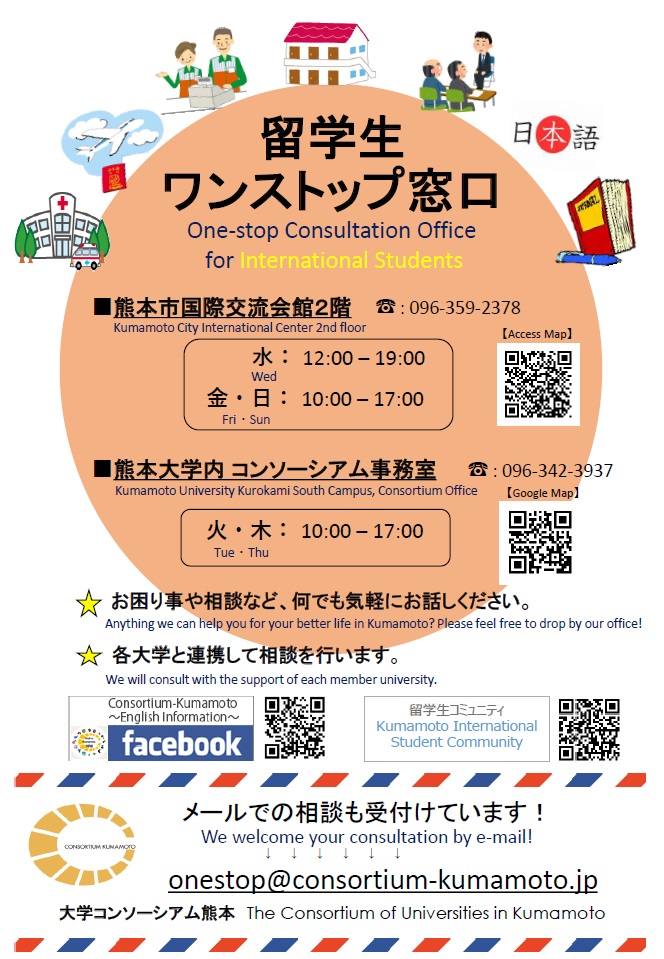 Let's talk with International Students SALON
This is a Kumamoto City International Center's event which international students representing their mother country talk about the charms of their country. Many international students are enthusiastic about sharing the information and having the discussion, thereby most of the participants are usually satisfied with this salon. If you have time and drop by the center, why don't you join this a round-the-world trip? For more information, please look at the website of KCIC. http://www.kumamoto-if.or.jp/kcic/default_e.asp
▲Sri Lanka in May 2017

▲DR Congo in July 2017

▲Columbia in September 2017

▲Nepal in November 2017

▲Vietnam in January 2018
Internship Program
Internship Program is a great opportunity for graduate candidates to cultivate a view of career and work.  It is also effective in reducing mismatches between employers and job seekers through having working experience at companies for a certain period while in college.
We will proactively work on placing the right people into the right positions.
Managing committee member:
Kyushu Lutheran College
Prefectural University of Kumamoto
Kumamoto Gakuen University
Kumamoto University
Tokai University Kyushu Campuses
Shokei University
Shokei University Junior College
Sojo University
Schedule
Consortium Management Committee
Students
Host companies
April
●PR & Internship Orientation meeting (at each campus)
●Recruitment of student participants
●Finding new host companies
(host request)
●Participation in the orientation
●Registration of the internship program
●Deliberation of hosting trainees
May
request
June
●Finding new host companies (host request)
●Allocation of host companies (to each University)
●Issuance of request letter   for recommendation
●Assigning applicants' host company
●Delivery of company information
July
●Listing settled participants
●Delivery of host request letter and entry sheet
●Pre-training(at each campus)
●Research host company
●Participation in Pre-training
●Coordination with host company
●Receiving application form and entry sheet
●Instructions on internship acceptance to student participants
Aug
●Support during internship
●Internship
Sept
●Support during internship
●Internship
Oct
●Follow-up training & opinion exchange meeting
●Participation in follow-up training & opinion exchange meeting
●Participation in follow-up training & opinion exchange meeting
Nov
●Analysis and examination for the coming year
●Analysis and examination for the coming year