Looking for Participants! OMOTENASHI -with the spirit of WA-
Looking for Participants to experience the Japanese culture.This program is hosted by Japanese students who is enrolled at Universities in Kumamoto.
Flyer(Japanese and English)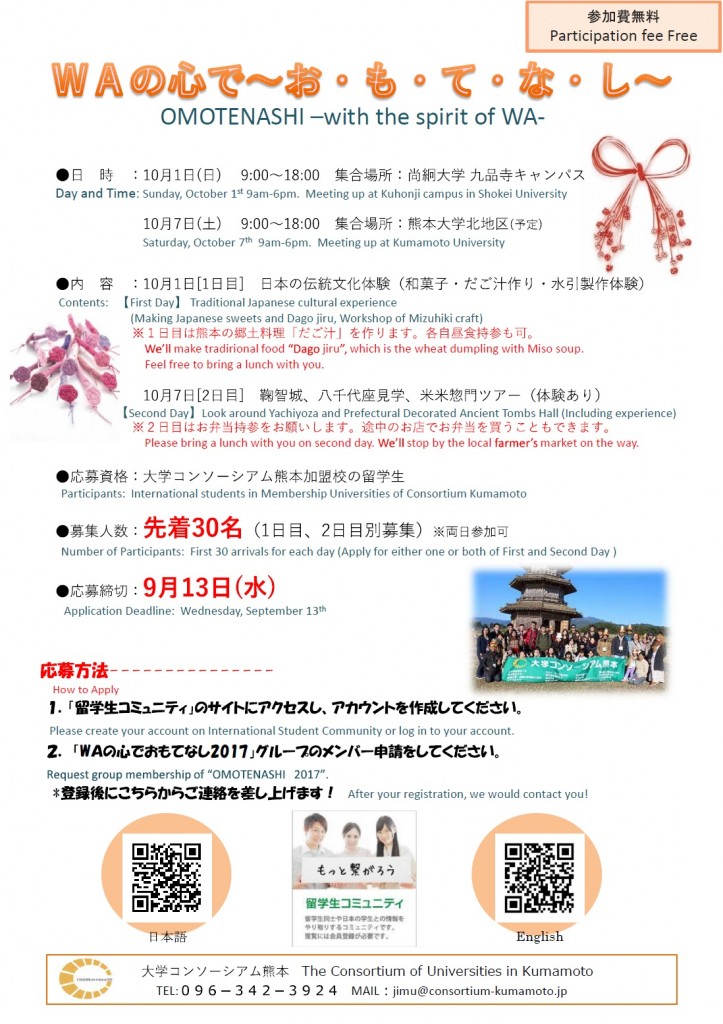 Final Application Deadline: September 22th(Fri)
【First Day】  Sunday, October 1st 9am-6pm.  Meeting up at Kuhonji campus in Shokei University
     Contents:Traditional Japanese cultural experience
    (Making Japanese sweets and Dago jiru, Workshop of Mizuhiki craft)
     We'll make tradirional food "Dago jiru", which is the wheat dumpling with Miso soup.
     Feel free to bring a lunch with you.
【Second Day】 Saturday, October 7th  9am-6pm.  Meeting up at Kurokami North Campus in Kumamoto University       

     Contents:Look around Yachiyoza and Prefectural Decorated Ancient Tombs Hall
       Please bring a lunch with you on second day. We'll stop by the local farmer's market on the way.
●  Participants:  International students in Membership Universities of Consortium Kumamoto
● Participation fee Free

●  Number of Participants:  First 30 arrivals for each day (Apply for either one or both of First and Second Day )

●   Application Deadline:  Wednesday, September 13th
———How to Apply———————————————

1. Please create your account on International Student Community or log in to your account.

2. Request group membership of "OMOTENASHI 【First  day】 or 【Second day】".

*After your registration, we would contact you!